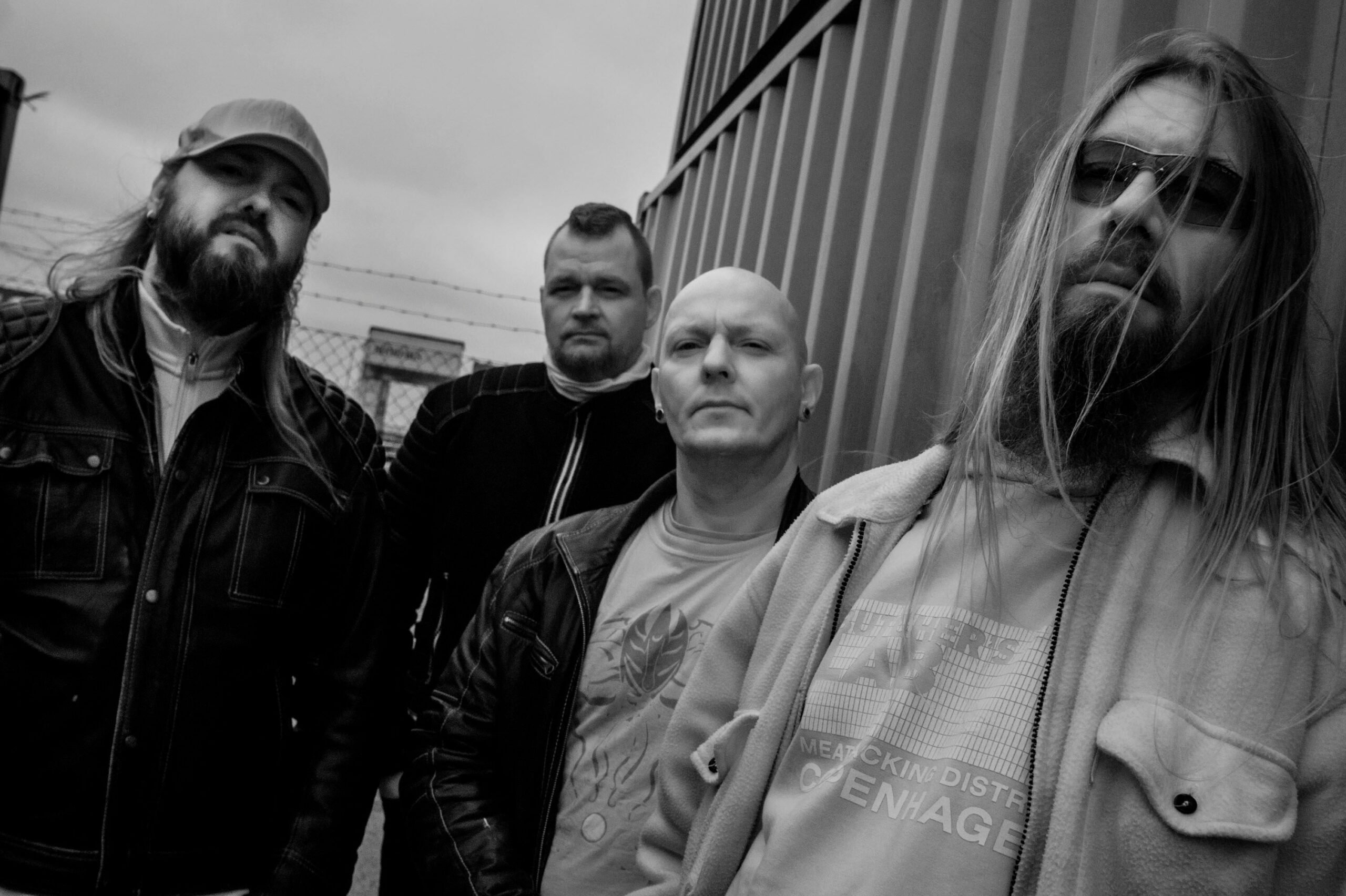 KONKHRA, who like to label themselves as "Extreme Metal", were founded in Copenhagen/Denmark during 1988 as VICIOUS CIRCLE.
The band got around to recording their debut demo tape in early 1990 with a second release 'Malgrowth' the following year. KONKHRA signed to local label Progress Records and issued the 'Stranded' EP. This official debut, limited to only 3,000 copies, featured sleeve artwork by noted Chicago tattoo artist Guy Aitchison. The release was capitalised on by support slots to acts such as FEAR FACTORY and BRUTAL TRUTH.
With the release of their first full length album in 1993's 'Sexual Affective Disorder' KONKHRA put in an American tour supported by label mates MEATLOCKER and a January 1994 European trek with SUFFOCATION. The third album, 'Spit Or Swallow', was produced by DISMEMBER drummer Fred Estby and Tomas Skogsberg, at the famed Sunlight Studio in Stockholm. This album had pushed KONKHRA to the status of being Progress Records best selling act.
In support of the record the band toured Europe in 1995 on a bill alongside DEICIDE and SUFFOCATION. Scandinavian dates alongside IMMOLATION and CANNIBAL CORPSE had KONKHRA conclude the touring duties for 'Spit Or Swallow'.
In 1997 KONKHRA started work on a new album 'Weed Out The Weak' as they were brought up to strength with the addition of ex-TESTAMENT, OBITUARY and DISINCARNATE guitarist JAMES MURPHY. Incidentally, KONKHRA's 'Homegrowth' video featured a cover of TERRORIZER's 'The Dead Shall Rise' and guest contributions from members of NAPALM DEATH.
The album went on to be released by Metal Blade for the US market, extensive touring followed. The album was followed by a 7 week trek European your with NAPALM DEATH.
In 2001 KONKHRA did the opening acts for KING DIAMOND's two weeks European Tour.
KONKHRA signed to the Italian Code666 label for a 2003 album 'Reality Check' , recorded at guitarist/vocalist Anders Lundemark's Starstruck Studio. A rash of European dates throughout late October and throughout November saw KONKHRA headlining over fellow Danes ILLNATH and CORPUS MORTALE with Greek act HOMO IRATUS also in tow. The band would also put in their debut Israeli gig, appearing at the 'Metalist' Festival'. Another first for the band came in January of 2004 with three South African gigs in Durban, Johannesburg and Cape Town.
The band announced fresh album recordings in 2007 branded 'Religion Is A Whore'. The theme of this set was described by the band "as a response to the 'cartoon crisis,' which was triggered by a Danish cartoonist who made a drawing of Muhammed with a bomb in his turban." However, the sessions would be curtailed and eventually completely re-recorded. Digital mishaps conquered, the album was released in 2009 through the bands own label imprint CHOPSHOP internationally distributed by TARGET. Festival appearances and touring followed.
In 2014 the band joined BEHEMOTH in South Africa for two shows and a good week of sun and sightseeing. The next year VOLBEAT announced a sold out show (the only show in Denmark. 37.000 tickets sold!) with ACCEPT and KONKHRA as support acts. The same year KONKHRA opened Denmark's biggest metal festival 'Copenhell'.
In the summer of 2015 the Christian organization 'Shield of the Sun' and it's minister Michael Hur accused the members of KONKHRA of stealing $500.000 from them and spending the money '…on whores, drugs, speakers and studio time. Again let it be said that Religion is a Whore !!!
2016 the band signed up with HAMMERHEART RECORDS and a reissue of 'Weed out the Weak' saw the day light on both vinyl and CD. The same legendary label released KONKHRA's newest full length and self produced album 'Alpha and the Omega' in 2019. The album was recorded at Anders Lundemark's own Starstruck Studio and mixed by mighty Tue Madsen (The Haunted, Sick of it All, Meshuggah etc.). The music on the album speaks for itself. Extreme but balanced within the boundaries of their patented groove and grinding metal roots. Apropos roots the lineup on the album is the old crew: Johnny Nielsen (drums), Kim 'Hakim' Mathiesen (guitar), Martin R. Patterson (bass) and of course Anders Lundemark(vocals and guitar).
In 2020 – as a reaction on 'Alpha and the Omega' KONKHRA is not only headlining the 'Alpha Tour' in Denmark but also supporting BATUSHKA on the 'Panihida European Tour' along with MALEVOLENT CREATION.
METALHAMMER MAGAZINE is giving the band ultimate credits by putting them on the 'TOP TEN METAL BAND FROM DENMARK' among VOLBEAT, MERCYFUL FATE and MYRKUR. (READ MORE)